sale ends tonight
Regular price
$ 18.95 USD
Unit price
per
SAVE 34%
Sold out
TechBrush - 7 in1 Pc & Phone Cleaner
Delivered between - and -.
If you can't stand a dirty keyboard or headset and hate using other people's at work. This cleaning brush set is your best choice!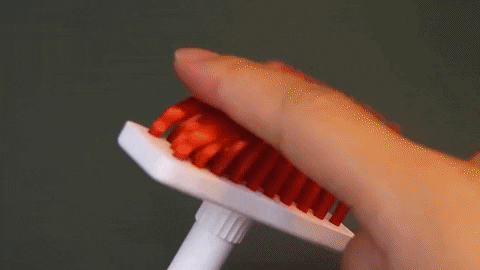 Features:

Easy to deal with all kinds of cleaning needs 4 kinds of cleaning head, multi-purpose, deep cleaning every corner of the keyboard and earphones, make dust nowhere to hide.


Multifunctional Cleaning Kit A flocking sponge can clean the dust in the wireless charging case of the earphone. The high-density brush can clean the dirt on the sound outlet hole of the earphone. A metal pen tip can clean the stubborn dust


Soft Brush Does Not Hurt Keyboard A special selection of nylon brushes with moderate softness and hardness, a three-row design with high pore strength, good elasticity, stiffness, and compactness, more labor-saving friction

Separated Dual Head Design Hagibis 7-in-1 computer cleaning kit with Nylon Bristles, Flocking Sponge, High-density Brush, Metal Pen Tip, and Keycap Puller, the dual head is hidden design to meet a variety of cleaning needs
Easy to pull keys with a simple key puller, the change of keycap is no longer laborious and the removal of the keycap is cleaner and more thorough
View full details
Cleanest keyboard ever!
When I started my job I inherited the nastiest keyboard ever. I think the girl before me decided to hide all her crumbs in between the keys. This thing enabled me to do a deep clean and that keyboard looks brand new! It even types better without all the grit. Great value!
Great tool!
This product got the nastiest, caked-on, dirt/earwax, off my bf's Air-Pods and they literally look good as new. These will keep your Air-Pods looking so fresh and it's so easy to use.
Probably the best headphone cleaner, yet
Horrified by what I was able to remove from Air-Pods with this tool. Easy to use. The best part is its size, and that it's all compact into one part.
Would buy again, very handy!
I really liked how well this product worked as advertised. Each element did as was intended and to a very effective degree. My Air-Pods haven't been this clean since the day I took them out of the packaging. Would definitely recommend it.
Convenient and easy
Super handy product. I was able to clean all my air pods so fast and completely. I did my daughters too. Loved how easy it works and easy to store