"NO MORE BURNING, STABBING NECK PAIN.  I've been crying tears of joy! After a long day of work, my neck and shoulders are pain-free. I can't even remember the feeling of sharp pain in the morning." Deborah L. - USA - Verified Buyer
CLINICALY PROVEN
Regular price
$ 129.95 USD
Sale price
$ 129.95 USD
Regular price
$ 229.95 USD
Unit price
per
SAVE 43%
Sold out
✔️ Relieve your pain in 30 days or we refund you. Guaranteed.
✔️ Pain-free neck in the morning and no more stabbing neck pain after work
✔️ No more burning pain
✔️ Save up to $1,500 on therapy costs (per month) with this breakthrough home therapy
✔️ 30-day at home trial, free shipping, and hassle-free returns
Sweevly Deep Massager
Sale price
$ 129.95
Regular price
$ 229.95
Unit price
per
SAVE 43%
Sold out
Delivered between - and -.
View full details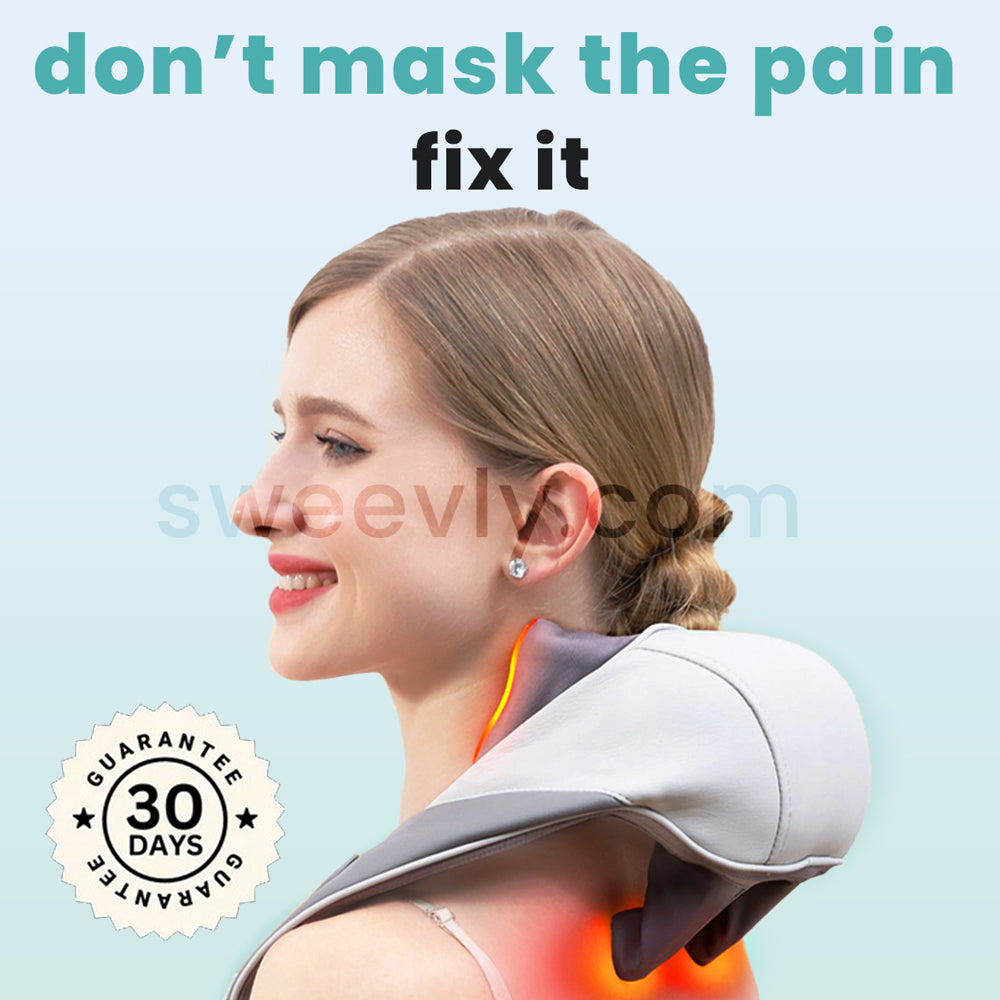 MedlinePlus
Healthline
HealthGrades
Medscape
Mayoclinic
MedlinePlus
Healthline
HealthGrades
Medscape
Mayoclinic
MedlinePlus
Healthline
HealthGrades
Medscape
Mayoclinic
MedlinePlus
Healthline
HealthGrades
Medscape
Mayoclinic
MedlinePlus
Healthline
HealthGrades
Medscape
Mayoclinic
MedlinePlus
Healthline
HealthGrades
Medscape
Mayoclinic
MedlinePlus
Healthline
HealthGrades
Medscape
Mayoclinic
MedlinePlus
Healthline
HealthGrades
Medscape
Mayoclinic
Relieve neck pain, shoulder spasms, neuropathy, back pain with deep massage.
Are you struggling with horrible pain in your neck and shoulders?
If you or someone you care about is going through this, it's likely due to a lifetime spent in poor posture, resulting in severe discomfort, burning sensations, and pain. Could it be caused by frequent physical activity? Are you in the process of recovering from an injury or surgery?

Alternatively, it could be linked to an underlying health issue like muscle spasm, neuropathy, or facet joint. The outcome is chronic and persistent pain, which leave you unable to do your daily chores, fatigued, sleep-deprived, and constantly uncomfortable. However, there is a chance to transform this situation.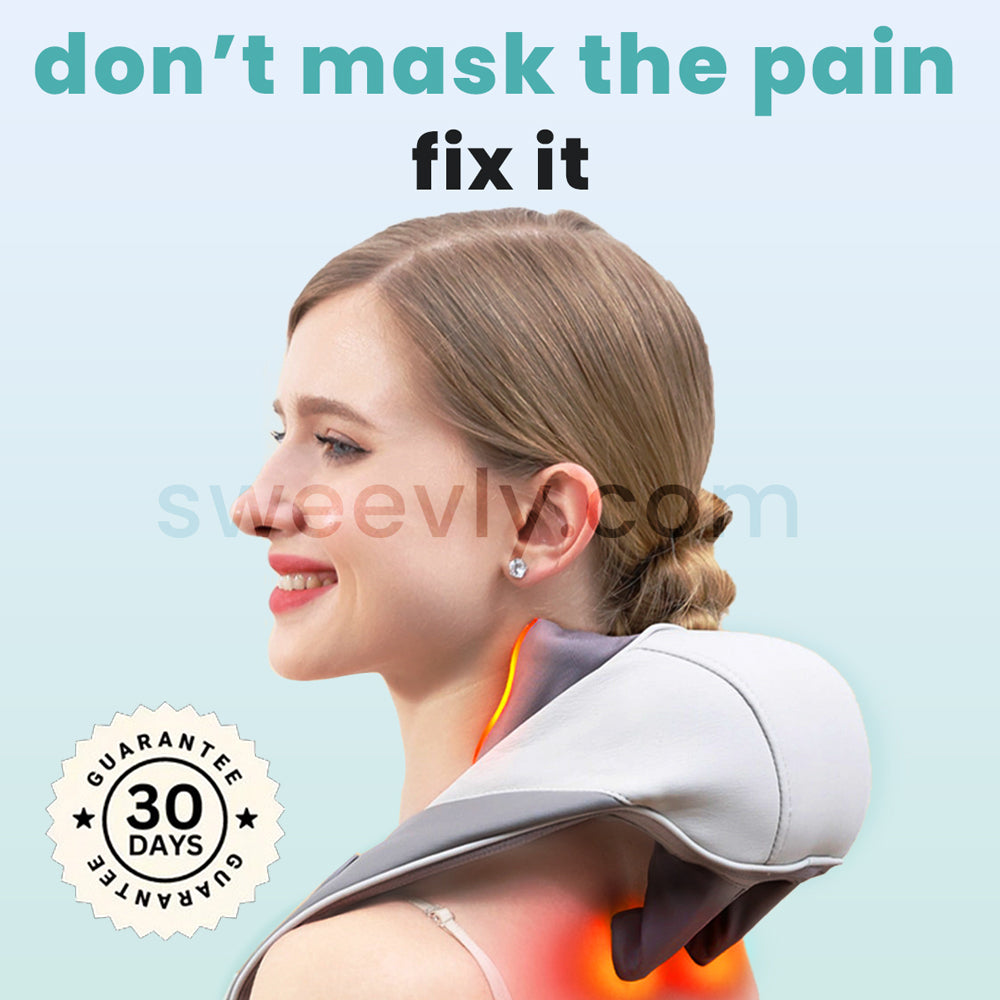 Naturally relief & eliminate neck and shoulders pain
According to clinical studies, Sweevly Neck Massager provides a deep tissue massage that enhances blood flow, leading to increased oxygen and nutrient supply to injured tissues. This, in turn, accelerates the healing process.
Discover healing at home
Get rid of neck pain, neuropathy, shoulder spasms, and even back pain. Experience a groundbreaking home therapy that alleviates pain within 3 weeks.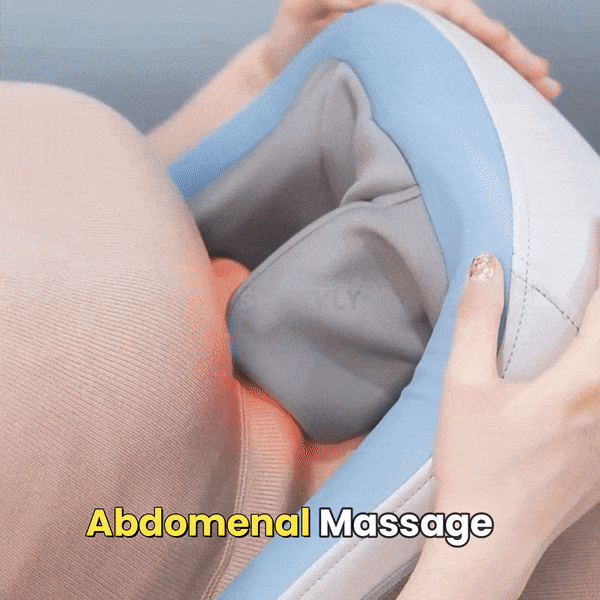 Easy to use
Only 15 minutes per day
Everyone can use the Sweevly Neck Massager with ease!
If you follow this plan, you have a 95% of chances to reduce your pain within 1 month* (but it usually works within first week):
1. Place your Sweevly Neck Massager your neck or shoulders.
2. Relax your muscles and take a deep breath.
3. Start your therapy and experience the deep tissue message at home.
4. Enjoy the deep massage, let it run for 10-15 minutes and watch the stabbing pain melt away
5. Repeat everyday for 3-4 weeks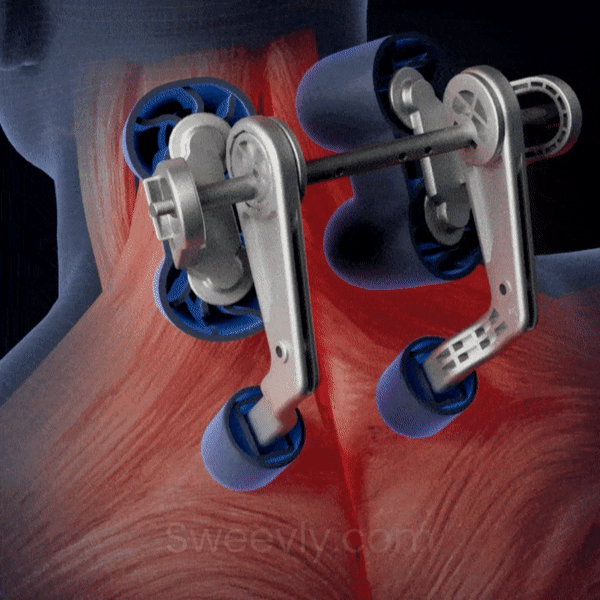 Scientifically proven
Deep tissue massaging is backed by over 100 clinically conducted studies, it may sound incredible, but it's a scientifically proven fact that massage, compression, and vibration therapy significantly help in restoring muscles health. 
FAQs
Frequently Asked Questions

In what case can Sweevly Neck Massager help me?
Our Massager is not magical: it will only work if you follow your daily therapy for at least 3 weeks. It's backed scientifically, with hundreds of clinical studies showing how it alleviates numerous health issues. Today, Massage Therapy is used in clinics and by therapists all over the US. We are proud that thousands of Sweevly™ users told us their health improved for:

Neck pain and stiffness
Shoulder pain and discomfort
Back pain
Neck burning
Sleep deficiency (caused by chronic neck pain)
and many other pain-related problems
What happens if I don't get results?
Don't worry. Even if a satisfying number of 94% of our clients had great results with their Sweevly Neck Massager, we understand that it may not work for everyone. We have full confidence in our products, that's why we offer a refund guarantee before 30 days! Simply contact our hearty support team and they will guide you during the easy return procedure.

What if the Sweevly Neck Massager is too expensive for me?
Our goal at Sweevly is to give you access to a professional treatment in your own home, at an affordable price. That's why the Sweevly Neck Massager costs the same as what you'd pay for a session in a clinic! It is sturdy and built only with quality and medical-grade components. It will last and heal you for years, literally. We truly believe that its price is fair compared to the health benefits you will receive.

Do you know Massage Therapy sessions can cost up to $16,000 per year?
Studies show that waiting before treating an injury or chronic pain can lead to serious complications and huge bills to rack up. Other brands like to sell their in-person therapy sessions for thousands of dollars, without any guarantee on the results.

We prefer to sell affordable, scientifically-proven and easy-to-use devices, that will get you real results. Like 5,000+ Americans, get yourself today your own home therapy device for the price of one clinic session.

One year of Massage Therapy sessions in a clinic: $12,000+
Large full-body Massage Chairs: $2,000+
Save thousands with your own Sweevly home Neck Massager: the cost of one session in a clinic!
What is the warranty and return policy?
As we are sure of our product, we offer free 30 days money-back service and a 1-year warranty for the product during our flash sale. You can return the package if you are not satisfied with the result. Please e-mail us at support@sweevly.com to get the warranty.

Technical Specifications

Certifications: FDA, CE, RoHS
Weight: 2.75 Ibs or 1.25 Kg
Rated Voltage: 5V
Battery Capacity: 1800mAh
Battery: Up to 90 minutes
USB Charging: Type-C
FDA Classification: Class I